About Us
Sahar Saghezchi, Owner of Facial Esthetics & Esthetic Nurse
Sahar, our owner and one of the skilled esthetic nurses of Cupertino Facial Esthetics opened the practice 8 years ago, and has over 16 years of experience in the medical esthetics industry stemming from working with some of the bay area's renowned plastic surgeons. Consultations, treatment planning, treating her patients, and furthering her education and esthetic skills are her passion. Creating long term relationships is her priority and ensuring each patient receives the utmost personalized care. She has recently opened a new business, The Cakery Infusions Wellness Lounge, where Cupertino Facial Esthetics has a second home. When she is not treating her patients between the two locations, she enjoys spending time with her daughter, cooking, and working out.

---
Dr. Khalil Sage (Saghezchi), DDS
Accredited member of the American academy of Cosmetic Dentistry, Fellow of the International Academy of Dental Facial Esthetics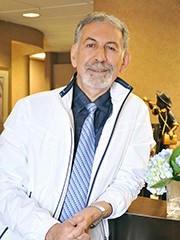 Dr. Khalil Sage (Saghezchi) has been practicing for over 20 years in Cosmetic and General Dentistry in Santa Clara County. He has used his advanced skills in Cosmetic Dentistry to create beautiful smiles for thousands of patients. He graduated with honors from the University of Pacific School of Dentistry, San Francisco in 1988. Shortly after graduation, he opened his own general dentistry practice in Santa Clara, and then in 2002 opened his cosmetic practice in Cupertino, CA. Dr. Sage has been a member of the American Academy of Cosmetic Dentistry since 1992. Then in 1997, he became one of only 300 accredited members of the academy world wide as a result of his dedication and excellence in Cosmetic Dentistry. He has appeared in a number of local and international magazines such as San Jose Magazine and Soma (San Francisco). He has published numerous articles in the Journal of American Academy of Cosmetic Dentistry ranging in subjects from porcelain veneers to dental implants. He was also a part-time faculty member at the University of the Pacific School of Dentistry, educating dental students in the latest advancements in Cosmetic Dentistry. His son Sohail, who graduated from dental school in 2002, and Sohrab, who graduated in 2007, have both joined the family practice.
---
Sohail Saghezchi, DDS MD, Medical Director
Board Certified Oral Maxillofacial Surgeon
Following in his father's footsteps, Dr. Sohail graduated from the University of the Pacific, School of Dentistry. After practicing general dentistry for 8 years he decided to pursue his dream and passion for surgery. In 2011, Dr. Sohail completed a one year Oral and Maxillofacial Surgery internship at UCSF, followed by the six-year residency program. He received his M.D. from UCSF School of Medicine in 2015 and completed a one year General Surgery internship in 2016. He graduated from UCSF as an Oral and Maxillofacial Surgeon in 2017 and is currently a surgical faculty at UCSF and San Francisco General Hospital, in addition to the Medical Director of the medical esthetics side at Cupertino Dental and Facial Esthetics.
---
Yoana Amador
Practice Manager & Patient Care Coordinator
Our practice manager and the first face of our office. Yoana manages both our medical and cosmetic dental sides and loves taking care of our patients. Her passion lies in patient care and forward facing experiences. She has a background in medical and dental billing and has been a part of our practice for over 6 years. She is sure to take care of each patient individually and customized. When she's not here at the office, you can find her working out, hiking, and traveling.
---
Atousa Habibi, RN, Esthetic Nurse
As a Registered Nurse of over 10 years, Atousa has multiple avenues of experience and accomplishments. Her knowledge in the medical field is nourished by the many prestigious Board Certified Plastic Surgeons, Oral Surgeons, Orthopedics, Obstetrics, Internist and Urologists. Continuing on into her 6th year at Cupertino Esthetics, Atousa's adoration and devotion to her craft has resulted in her success within the Esthetics community. She is sought out by many for the reasons that she provides her patients a personalized, informative, relaxed, and assuring experience. Esthetics is an art to Atousa which she takes great pride and fulfillment in. Outside of Cupertino Esthetics, Atousa is the Vice President of Medical Operations at Lookout Health Corp. while continuing to further her education in obtaining her Nurse Practitioner License.
---
Nicolle Morazan, RN, Esthetic Nurse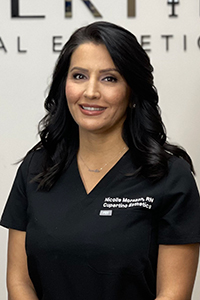 Nicolle is a Registered Nurse who has been in esthetics for 9 years. She received her Bachelor's Degree in Nursing from San Jose State University and has worked for renowned plastic surgeons. Nicolle specializes in all aspects of facial esthetics from injectable treatments, laser treatments, hair restoration and more. She loves spending time with her family and her passion and focus is in providing quality treatments and establishing a good skin care regimen.
---
Eric Sherman
Lead medical esthetician
Eric specializes in skin health from the inside out. He is constantly furthering his education to provide his patients with the best, customized care and treatment plan. HydraFacialMD, medical grade chemical peels, dermaplaning, TempSureRF skin tightening, and intimacy are just some of the treatments Eric specializes in. When he is not giving patients beautiful skin, he enjoys doing hair, spending time with family and friends and dancing.
---
Misty Santana, Medical Esthetician
Misty, one of Cupertino's lovely Medical estheticians, specializes in skin health and intimacy treatments. She performs HydraFacials, face and body peels, and intimacy lightening. Her favorite treatment combination is a Platinum HydraFacialMD including lymphatic drainage and dermaplaning for the best results. She also sees patients at our San Jose location, The Cakery Infusions doing the Geneo oxygen facial, body cupping and contouring, and other esthetic treatments. She loves her patients and making them feel pampered. When she's not treating her patients, she enjoys spending time dancing and furthering her knowledge.
---
Robbie Mendez, BSN RN
Esthetic Nurse & Laser Specialist
Esthetic Laser Nurse specializing in laser treatments and skin resurfacing. Looking forward to expanding my knowledge and skills to specialize in esthetic injectable treatments. Graduated from Samuel Merritt University. Outside of nursing, I enjoy cooking, working out, eating healthy, and enjoying life with others who appreciate the simple beauties in the world.
---
Cupertino Facial Esthetics has won awards for Cosmetic Dentistry. Contact us today!