About Us
Sahar Saghezchi Amini, Founder of Facial Esthetics
Sahar has an extensive background in Plastic Surgery with over a decade of consulting, patient care, medical and clinical esthetics and practice management. Being raised in a family of dentists, including her father, Dr. Sage, she naturally was drawn to create an esthetic atmosphere dedicated to health and beauty. Sahar and her brother Dr. Sohail, joined together to create Cupertino Facial Esthetics in 2015, creating a beautiful medical spa specializing in everything from the neck up. Her passion for beauty allowed her to offer patients the best treatments, services and experience. Aside from being one of the founders of Cupertino Facial Esthetics, Sahar also practices professional makeup-artistry and loves music, dancing, food and spending time with her family.
---
Dr. Khalil Sage (Saghezchi), DDS
Accredited member of the American academy of Cosmetic Dentistry, Fellow of the International Academy of Dental Facial Esthetics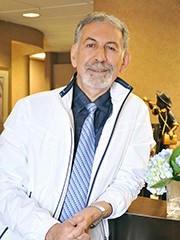 Dr. Khalil Sage (Saghezchi) has been practicing for over 20 years in Cosmetic and General Dentistry in Santa Clara County. He has used his advanced skills in Cosmetic Dentistry to create beautiful smiles for thousands of patients. He graduated with honors from the University of Pacific School of Dentistry, San Francisco in 1988. Shortly after graduation, he opened his own general dentistry practice in Santa Clara, and then in 2002 opened his cosmetic practice in Cupertino, CA. Dr. Sage has been a member of the American Academy of Cosmetic Dentistry since 1992. Then in 1997, he became one of only 300 accredited members of the academy world wide as a result of his dedication and excellence in Cosmetic Dentistry. He has appeared in a number of local and international magazines such as San Jose Magazine and Soma (San Francisco). He has published numerous articles in the Journal of American Academy of Cosmetic Dentistry ranging in subjects from porcelain veneers to dental implants. He was also a part-time faculty member at the University of the Pacific School of Dentistry, educating dental students in the latest advancements in Cosmetic Dentistry. His son Sohail, who graduated from dental school in 2002, and Sohrab, who graduated in 2007, have both joined the family practice.
---
Sohail Saghezchi, DDS MD, Medical Director
Board Certified Oral Maxillofacial Surgeon
Following in his father's foot steps, Dr. Sohail graduated from the University of the Pacific, School of Dentistry. After practicing general dentistry for 8 years he decided to pursue his dream and passion for surgery. In 2011, Dr. Sohail completed a one year Oral and Maxillofacial Surgery internship at UCSF, followed by the six year residency program. He received his M.D. from UCSF School of Medicine in 2015, and completed a one year General Surgery internship in 2016. He graduated from UCSF as an Oral and Maxillofacial Surgeon in 2017 and is currently a surgical faculty at UCSF and San Francisco General Hospital, in addition to the Medical Director of the medical esthetics side at Cupertino Dental and Facial Esthetics.
---
Shannon Gunderson, RN, BSN, NP
Shannon Gunderson, RN, BSN, NP graduated nursing school in 1997. Her background includes Pediatrics, ICU, ER, Trauma and Plastic Surgery and she is also an active member of the Dermatology Nurses Association. Shannon discovered her passion for teaching others the benefits and techniques of cosmetic facial enhancements and became an educator for medical esthetics where she shares her knowledge to physicians, nurses and other colleagues in the field. Shannon partnered to open a medical day spa in San Diego, CA in 2005 offering esthetic injections, laser services and more. She has since moved to northern California where she has decided to further her education even more and obtain her graduate degree as a Family Nurse Practitioner as well as join Dr. Saghezchi's practice. With her specialized training and experience in NeoGraft Hair Transplant, Nova Thread Lift, Laser, Botox®/Dysport®, Dermal Fillers, Advanced Dermal Fillers, Non Surgical Facelift, Medical Esthetics and Dental-Facial Esthetics, you are sure to be in the best hands at each visit. Schedule a consultation and treatment with Shannon today!
Schedule a consultation and treatment with Shannon today!
---
Atousa Habibi-Whitaker, RN, Esthetic Nurse
Atousa is a Registered Nurse who has been practicing esthetics for 5 years. She has worked as a nurse in surgery centers and operating rooms, for renowned plastic surgeons and has geared her passion towards facial esthetics. Her experience and training in injectable treatments, lasers, hair restoration and all other aspects of facial rejuvenation allows her to give top quality care. Atousa loves spending time with her family and rooting for her oldest son who plays football as an Oregon Duck.
---
Nicolle Mendez, RN, Esthetic Nurse
Nicolle is a Registered Nurse who has been in esthetics for 9 years. She received her Bachelor's Degree in Nursing from San Jose State University and has worked for renowned plastic surgeons. Nicolle specializes in all aspects of facial esthetics from injectable treatments, laser treatments, hair restoration and more. She loves spending time with her family and her passion and focus is in providing quality treatments and establishing a good skin care regimen.
---
Ashlyn Callison, Front Office Coordinator
Ashlyn has been in the Medical Esthetics and Cosmetic Dental field for over 5 years. She joined Cupertino Facial Esthetics as our Front Office Coordinator and is the first face and voice our patients see and hear. She loves patient care, treatment planning and educating patients on treatments and services. Her smile can light up any room and you are sure to be in great hands when Ashlyn is taking care of you!
Ashlyn is a certified trainer at Orange Theory Fitness and loves working out, motivating people and staying healthy.
---
Taylor Corbett, Medical Esthetician and Front Office Coordinator
Taylor is our Licensed Esthetician, she believes that everyone deserves beautiful skin and promises to guide you there. As our HydraFacialMD specialist, she utilizes sophisticated technology and results-oriented methods. She has completed extensive training on the anatomy and physiology of the skin and is continually educating herself on the latest products and services. She understands how pigmentation, acne and premature aging not only put your skin in jeopardy, but also your self-esteem and confidence. During your appointment with Taylor, you can expect to learn about your unique skin, and what can be done to address your skin care goals. Whatever your skin concern, Taylor can visibly change your skin, which can change your life.
---